Bringing the seemingly impossible into being
From a spark of inspiration to a global company producing the world's most highly-awarded electric hydrofoils, Flite has come a long way in a short time.

We got here by relentlessly refining and testing our design with our eyes on the ultimate ride. Excellence is, after all, a mindset – not a destination.

Our origin, however, was far more whimsical.

The idea for a motorised hydrofoil arrived on a windless day in 2016 as a 'lightbulb moment'.

Flite's founder, former kite-surfing world record holder and serial entrepreneur David Trewern, was at a kitefoiling event when he thought: 'What if I didn't have to wait for the wind. What if I could just attach an electric motor to my foil?'

That dream became a sketch and the kitchen table, a workshop. The 3D printer went into overdrive and late nights became early mornings. Dozens of prototypes later, David flew for the first time.

'It was magical. The feeling of freedom was like nothing else.'

Flite now has more than 330 authorised partners selling our boards, Fliteschools across the world, and offices in three countries: Australia, The Netherlands and The United States. The team now includes Naval Architects, Hydrodynamicists, Product Designers, Mechanical, Electronic and Software Engineers. We are focused on the intersection between electric vehicle and hydrofoil technology.

In 2021 Flite set records for the fastest eFoil speed in the world, and hosted the first official international eFoiling race – the Flite Cup. In 2022 Flite Ambassador Tom Court and big wave surfer Glyn Ovens used Flite's eFoils to surf the biggest waves ever ridden (Nazaré) on an electric hydrofoil.

Flite currently holds 10 patents and 4 registered designs, with more in the pipeline. We've released our most advanced series to date. Series 3 is lighter, safer, more responsive and more connected.

Flite's full range includes the easy riding AIR, popular and dynamic Fliteboard, adrenaline inducing PRO, the acrobatic ULTRA, and the world's lightest performance eFoil ULTRA L. Our latest innovations include Flitecell Nano (world's lightest lithium-ion eFoil battery) and Flite Jet (world's smallest eFoil jet), creating new benchmarks in electric marine power.

We are proud to continually push the boundaries of what's possible on an eFoil. The best part is the thrill we get from the ride.
Flite started as a family affair in Byron Bay, Australia. The first team member was hired in November 2017 and we reached 50 staff members globally by November 2021. We are now a global team with close to 100 permanent staff. Our team includes product and electronics engineers in Byron Bay and Melbourne, hydrodynamicists in California, composites experts in Thailand and fluidics and gearbox design experts in Germany.

Our headquarters remain in Byron Bay, and we have offices in Melbourne, Amsterdam, San Francisco and Nyack in New York. Despite our relative success, the company still maintains a small business feel, possibly influenced by the 'Byron approach' to life. It's a community full of big dreams and solid ethics.

Our Fliteboard family has grown and our boards are now enjoyed by thousands of customers in over 90 countries around the world.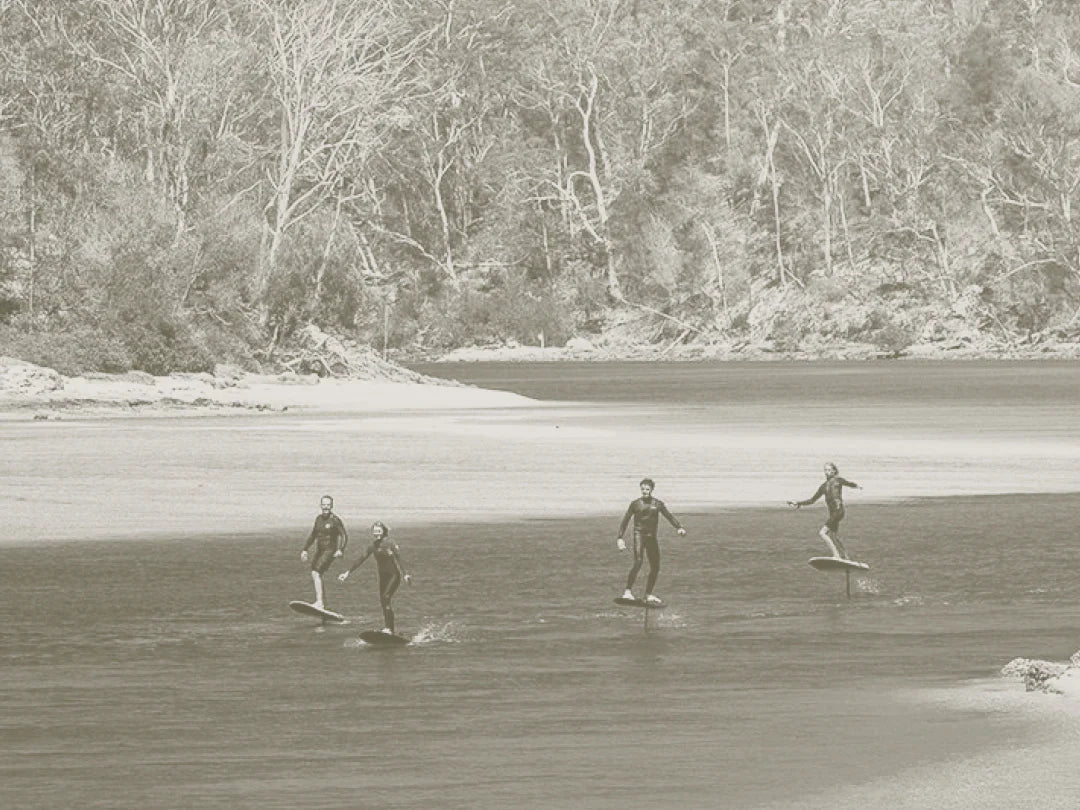 PERFORMANCE TEAM
From legendary world champions to up-and-coming pioneers, our talented Flite ambassadors are driving the evolution of our eFoils. As partners who share our values and vision, our ambassadors embody what being a Fliteboarder is all about.
Fliteboard Sustainability
Forging the future for electric marine vehicles
At Flite we are continually innovating and developing new technologies that, when scaled, have the potential to create a future of quiet, clean ocean enjoyment and water transport.

Fliteboards are able to carry an 80kg human at foiling speed using less than 700 watts of battery powered electricity. They are quiet above the water, and have an underwater acoustic profile that is significantly less impactful than even the smallest petrol marine motor. They are manufactured to commercial grade and built to last.

'Fliteboards are possibly the world's most efficient and environmentally friendly powered marine vehicles.' – David Trewern

In 2022 we launched a battery recycling program in the United States, the first of its kind in the eFoil industry. The intention is to make it easy for our customers to dispose of batteries at end of life, and to take responsibility for the largest environmental impact we have.
We offer the world's best range of eFoils, but the journey is never over. It can always be that little bit faster, stronger, lighter, more efficient, more reliable, more intuitive. We're living on the edge of innovation, with many of our Flite Firsts pioneering the landscape of eFoiling.

Every Fliteboard is comprised of hundreds of parts, many of them custom designed. The majority of the development happens in our Byron Bay factory, in close proximity to the Pacific Ocean, where we test our creations almost daily. We also collaborate with experts in specialist fields in the USA, Germany, Thailand and China, in our mission to create the perfect ride.

One of the innovations that holds our boards above others in the market is our patented unibody fuselage. We machine the motor and the mast out of one piece of aircraft grade aluminium, which takes 14 hours, rather than clamping the motor to the mast. This not only gives the foil added strength, but it acts as a heat sink, removing the need for cumbersome cooling tubes.

It's how we created the most balanced, responsive and efficient electric hydrofoil in the market.
The history of eFoils
Fliteboard was an original idea developed by our Founder David Trewern in 2016. Like many new things, similar ideas developed concurrently in different parts of the world. And from further research, we now know that there is quite a story to the first origins of the eFoil.
2008
In a 2008 Master's program in Naval Architecture at the KTH Royal Institute of Technology in Sweden, the task was to create a new type of aquatic vehicle. The requirements were that this vehicle had to be silent, electric, not create wake and be able to carry one person at a speed of 15 knots.

The first electric hydrofoil board was created by Professor Jacob Kuttenkeuler and a group of 15 students taking part in a project called EVOLO. Their concept was a weight-shift controlled board that was ridden in the kneeling position.

2009
After working on it for two semesters, they came up with the first electric hydrofoil, which was successfully demonstrated in the spring of 2009.

2016
David Trewern sketches the first idea for Fliteboard and begins building a prototype. A number of similar concepts are developing independently of each other. Electric motors and batteries had developed to the point that the propulsion system could be light and powerful enough to be attached to the wing itself, under the water, and provide enough speed to lift the board.

Kai Concepts was the first to show a working prototype of a stand-up eFoil in August 2016. 'Jetfoiler' was created by Don Montague and his team, also the developers of the kiteboat. Don coined the term eFoil on his website at the time: 'a watercraft equipped with hydrofoils that uses an electric motor or motors for propulsion'.

2017
In September 2017, David takes his drone out to Belongil and films his first ride on a Fliteboard. A worldwide buzz ensues, driving him to create a business from what was initially a passion project.

In October 2017, Flite launches their website and hires their first employees. As Fliteboard continues to be developed, various updates are made showcasing some innovative technology such as a purpose-designed unibody fuselage (combining the motor and foil into one unit to improve stability and efficiency), a Flitebox with innovative heat-sink cooling system, custom wings specifically designed for eFoiling, and a reduction gearbox featuring 20 virtual gears and cruise control.

2018
Flite begins shipping boards in June 2018 and appoints an EU General Manager based in Europe.

2019
Surpassing 2 million website visits and 100,000 instagram followers, Fliteboard becomes a global hit. Major design awards are presented in the USA, Germany and Australia, and Fliteboard is named 'Innovation of The Year' in the Australia By Design television series. Features in Bloomberg, The Robb Report, Wired, GQ, The Australian Financial Review, Foiling Magazine, Uncrate, Business Insider and many other publications cement its status as a phenomenon.

Flite opens an office in New York, USA.

2020
In April 2020, Flite App launches, allowing Fliteboard users to measure performance statistics such as distance, speed, roll, pitch, power and battery statistics. They can also replay and share their ride, using GPS Flite Track.

Flite sets up an office and distribution centre in the Netherlands. Fliteboard continues to be the most awarded eFoil in the world, receiving 6 more international awards, including the coveted Red Dot Best of the Best award.

2021
Flite releases the Series 2 Fliteboard with a simplified electronics and connections concept, and the world's smallest eFoil (Fliteboard ULTRA). New purpose-designed eFoil wings are launched, including the first dihedral eFoil wings, the Flow series. Fliteboard also introduces True Glide, a free-spinning propeller with one way bearing for unpowered wave riding.

Supporting our vision to grow eFoiling as a legitimate sport, Flite hosts the first international Flite Cup eFoil race.

Flite makes history, becoming the first eFoil to cross the English Channel. Fliteboard customer (turned investor) Rob Wylie completes the crossing on a single battery charge.

Flite opens the first distribution centre in California that runs on 100% solar energy.

2022
Constantly innovating and improving, Flite launches Series 2.2 featuring a host of refinements to the range, including a quieter motor. A Flite App upgrade makes it the first and only eFoil app in the world where riders can compete in online leaderboards. Flite also launches significant innovation with the Flitecell Titanium range.

Performance Team Riders, Tom Court and Glyn Ovens put Fliteboard to the ultimate test, taking on the biggest waves in the world at Nazaré.

Rob Wylie uses Fliteboard to achieve another record, this time for the furthest distance travelled on a single battery charge, covering a total of 40km / 25 mi in the Maldives.

Flite is recognised as one of TIME's best inventions of the year, and receives a Green Product Award, as the world's most efficient powered marine vehicle.

Flitecell battery recycling program launches in the USA.

2023
Flite continues to innovate with the announcement of Series 3, which is lighter, safer, more responsive and more connected. Series 3 introduces the lightest performance eFoil in the world (ULTRA L), the world's lightest lithium-ion eFoil battery (Flitecell Nano), the world's smallest eFoil jet (Flite Jet) and the world's first interchangeable propulsion system (Dual Drive) that lets riders change between jet and prop in seconds. A new range of colours, finishes and more affordable fibreglass construction enhance our premium setups. Flite is pioneering the future of eFoiling.