Creating the ultimate eFoil
We created a flowing form, connecting the mast, fuselage and tail as one single monobloc. Eliminating joints, bolts and seams results in a stiffer and more streamlined eFoil for less hydrodynamic drag and a more responsive ride.
Inspired by aerospace engineering, where low drag dynamics and performance are crucial. Using Japanese high modulus pre-preg (HMPP) carbon fibre bonded in an autoclave, we found the perfect balance of weight, strength and torsional stiffness.
The Flite x Marc Newson range comes in three configurations. MN86 is for beginners, intermediate and heavier riders. MN60 is for lighter or experienced riders. MN60 Wave is for advanced riders who prioritise flying using the power of swell.
MN Flite Controller comes with a new wireless inductive charging dock. It features animated real-time feedback on a large round colour display for a more intuitive riding experience. Wave Mode displays live data on every wave you catch.
This iconic Australian has created for clients including Louis Vuitton, Ferrari, Montblanc, Hermès and Riva. He has worked across a wide range of disciplines, from furniture, luxury goods and technology to marine, automotive and aviation design. He is the only designer to be represented by Gagosian Gallery.
Discover the range
For experienced or lighter riders
Designed for advanced wave riders
A singular form,

as pure
and functional

as it is beautiful.
Propulsion options
MN Dual Drive
Smooth, safe and sound
MN Wave
Lightweight and reduced drag
⌀62mm
Suitable for all conditions, riding preferences, and abilities. Includes both Flite Jet and Flite Prop, ready to be swapped in seconds with no tools.
⌀46mm
The smallest, lowest drag eFoil motor on the market, for advanced riders who prioritise flying using the power of swell. Includes Flite Folding Prop.
Form follows function
Newson redesigned the board rails in line with his resolved design ideology. The carbon fibre body is left unadorned to shave even more weight from the board while highlighting the quality of the material and refinement of the manufacturing.
Narrower than existing boards with less surface resistance and better hydrodynamics, greater lean angles and lower swing weight.
Beauty is in the details
Voronoi pattern
This naturally forming pattern is found everywhere from turtle shells and spotted eagle rays to the fine bubbles marking the border of ocean and beach. Newson borrowed the pattern from nature to create the functional and distinctive deck grip.
Clean lines
Flush mount silicone handles are sleek and discreet. There when you need them and integrated when you're flying.
Stunning simplification
A singular battery-release mechanism is simple, durable and striking. Like every Fliteboard, battery levels, board health, connection and pairing status are displayed on the minimalist Flitecell lightbar.
Steering the future
Steering the future
Newson redesigned the award-winning Flite Controller to feel analogue and organic. MN Flite Controller features a large colour display and an intuitive interface for real-time feedback. Wave mode logs and displays wave data throughout your session.
No matter how sunny it is, the high brightness 1000 nits OLED will keep your ride data visible. 
This organic and circular shape is ergonomically designed to fit your natural grip. Constructed from weatherproof TPU material it also comes with a floating wrist strap.
Using Flite App you'll stay wirelessly up to date with the latest firmware, including Jet mode, Light Rider mode and Wave mode.  
Inductive charging dock
Charge wirelessly with the new inductive charging dock. Designed by Marc Newson, it's a piece of desk art and a reminder of your post-work Fliteboard session.
Real-time Wave mode
Get easy to read wave data for the wave you're riding directly on MN Flite Controller, with total distance displayed as you power out. Easily compare each ride to your longest wave of the session and track your total waves and total distance.
Compete on Flite App
Your dream session has the data to back you up. Compete with your friends and other Fliteboard riders around the world for the longest wave, the most waves and longest surfing distance covered in a session.
Next generation wings
For speed and smoothness, the hydrodynamic and lightweight titanium nose cone is flush mounted to HMPP carbon fibre wings. Inspired by motorsport aerodynamics, this range signifies the next evolution of performance and durability.
Flite App
Join our global Flite community and take your ride to new heights with Flite App. The only eFoil app that allows users to showcase their skills in leaderboards.
Compete with friends and other riders around the world. Show your furthest distance travelled, most unpowered waves, time spent riding. Track your waves and sessions.
Share your favourite sessions with the Flite community. Analyse your rides and learn from your own sessions. Find new places to fly and see where others are riding around you.
Tutorials and tips from pro riders on everything from board assembly and your first ride, to progressing your skills and upgrading your setup.
Service logs and reminders.
Unlock new features and abilities.
Set your security and privacy settings.
Keep software up to date.
Flite Advantages
Efficient and smooth
Wings and motor on a single axis
Simplicity
Tech made easy

Safety
Simply intelligent

Our foil-integrated motor means that both lift and thrust are aligned for stability and hydrodynamic efficiency, at every speed.
The brain of Flite is integrated in the top of the mast. Updates are performed wirelessly, and it connects to the battery with only two cables. It's plug and play at its finest.
Smart features and clever design help protect you from the risk of injury and your Flitecell from damage.
Nano. Sport. Explore.
3 x Flitecell capacities
Market-leading Flitecell uses the same 21700 cells found in electric hyper cars. With every aspect of performance, weight, strength, durability and safety refined. MN Flitecell comes in a limited edition orange anodised titanium battery box.
Designed for extreme marine use, every Flitecell also has several proprietary safety measures including sight glass and magnetic on/off.
Signature titanium plates make Flitecell highly resistant to any form of corrosion, while increasing impact resistance.
Our range of Flitecells contain Phase Change Materials for enhanced thermal management, safety and longevity. Our Battery Management System is engineered for a swift, safe charge and consistent temperature control. 
MN Flitecell Nano
Foil time up to 45 mins
6.2kg 16.8 Ah, 806 Wh capacity 
 

MN Flitecell Sport
Foil time up to 1.5 hours
10.6kg 30 AH, 1.6 KWh capacity 
 

MN Flitecell Explore
Foil time up to 2.5 hours
14.5 kg 40 AH, 2.1 KWh capacity
 

Keep your MN Fliteboard safe
All Flite x Marc Newson configurations include bespoke bags and cases for transport and storage of each component. The board bag also provides a protective surface for assembling your ride.
Designed to protect your limited edition board during travel and storage. Made from premium materials with reinforced, padded construction.
The Flitecell Bag provides protection for your battery during travel and storage. Compatible with all Flitecells.
Safely store your MN eFoil as well as your propeller and Flite Jet, ensuring you're always prepared for the conditions.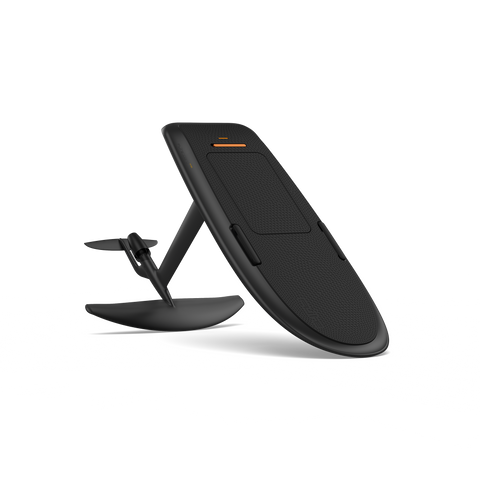 MN86
For all types of riders
The largest board in the MN range makes riding easy for heavier riders and novices.  Propulsion: MN Dual Drive (True Glide + Flite Jet) Wings: Cruiser Jet 1500C + MN 1300C
MN60
For experienced or lighter riders
This shorter board makes for sharper turns but less overall stability. Propulsion: MN Dual Drive (True Glide + Flite Jet) Wings: Cruiser Jet 1500C + MN 1300C